The FF3i is Phoenix Scales Technologies' three idler belt scale. This conveyor belt scale is the bechmark model in our complete line of conveyor belt scales. The FF3i has been operating for over fifteen years in some of the harshest environments and has proven itself to be dependable.
This scale utilizes our full floating weigh bridge design with easy to install support members. The weigh bridge is suspended by four "S" type load cells which allow it to consistently provide accuracy <+/- 0.25% in factory
approved applications. The full floating weigh bridge is constructed of 1/2″x4″ solid steel to avoid any deflection during weighing. The robust design allows it to be used on high TPH applications.
With no pivot points to bind and wear, the FF3i will give years of quality service. This one peace three idler scale design is not a group of our single idler scales in stalled together to look a three idler.
The Phoenix under belt speed sensor is a positive contact design with the electronics in a NEMA 4 enclosure. The Phoenix speed sensor can be mounted as close as sixteen feet from the scale and contacts the underside of the load belt to give true representation of actual belt speed.
The Phoenix Legend III belt scale integrator completes the precisely accurate weighing system. The Legend III is a micro processor based unit with practically unlimited options for any special application you might have. This intricate electronic unit is housed in a NEMA 4x stainless steel enclosure to withstand the harshest environments.
Legend III Integrator
Multi-line, 6 Digit Display
16 Alphanumeric LED Characters
8 Set-points, 4 Inputs
RS232, RS422, or RS485 Serial Output
Multiple Levels of Password Protection
Operating Temperature of -20C to +50C
User Friendly, Menu Driven Operations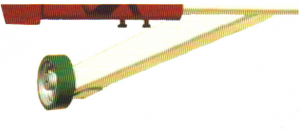 Integrated Speed Sensor
Under belt contact design
Easy bolt on installation
mounts directly to the structure
Electronics housed in NEMA 4 rated enclosure
Enclosed proximity switch
Positive contact to belt
Heavy steel construction
Industrial grade rubber rollers and greasable bearings